Our collections offer everything you need to create a designer space. Not just for the kitchen: Hugo&Borg cabinetry adds convenient storage solutions for every room in your home. Add function to your foyer, laundry room, bathroom and more!
Let your imagination run wild!
Distinctively rich, this classic premium-painted slate gray shaker style effortlessly radiates a refined warmth and beauty.
Always in style, this creamy premium-painted warm white shaker design creates an inviting cozy space
Soft and sophisticated, this light gray shaker design is sure to make a style statement and be loved for years to come.
Timeless and elegant, it's easy to contrast or coordinate with this simple, glacier white shaker style to create a fresh and bright space
Riviera is a classic and timeless bright white shaker door. It's fully versatile and coordinates easily with both neutrals and bold colors.
A versatile navy door that can add bold depth or serene calm. Lorette mixes perfectly with our bright white Riviera style
The ultimate in understated sophistication, our super-smooth London slab door style creates the most contemporary of interiors. Beautifully simple in a minimalist, crisp white finish, it's highly versatile in design and low maintenance in everyday life. Let your hardware choice set your style, or why not accent with a feature set of Laval doors?
Our timeless Shaker style door, Laval is synonymous with simplicity. Cabinetry of this distinctive, clean-lined design is perfectly at home all around the home, not just in the kitchen. In rich, warm gray with a high-end, hand-painted finish, it complements both the latest trends and classic decor equally.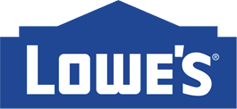 SOLD EXCLUSIVELY AT LOWE'S
You won't find Hugo&Borg Kitchens at any other retailer, it's a unique collaboration between us and Lowe's. This website is designed to make choosing, planning and buying easy from the comfort of your own home — but if you get stuck or need some professional inspiration, just contact us or visit your nearest Lowe's store.