It's our attention to detail that makes all the difference. With Hugo&Borg, you'll find must-have features you may never have considered until now, such as soft-closing mechanisms or extra wide drawers. It's these little things in life that add to the sheer enjoyment of your kitchen every day.
We like to keep things simple at Hugo&Borg, so our cabinetry comes fully assembled and ready to install, saving you the time and hard work often associated with flat-packed cabinets. Constructed using high quality materials, our cabinetry is durable and sturdy, designed to stand the test of time.
All Hugo&Borg cabinets are frameless by design; meaning there's no edge frame, or lip, around the front opening of the cabinet. This gives full access to the cabinet interior, allowing you to maximize the internal storage space.
We've really thought about the things that matter when designing our interiors, like our wider and deeper drawers that glide with ease, and our adjustable shelves. Not forgetting our corner cabinet that includes a 2-tier lazy Susan so everything is within easy reach.
A sign of quality, all Hugo&Borg cabinets feature soft-close doors and drawers as standard, bringing the highest level of function to the hardest working room in your home. And did we mention our drawers feature undermounted hardware so they fully extend too?
The final flourishes of style make all the difference to Hugo&Borg cabinetry. For example, your choice of crown, scribe or light rail mouldings can define the overall design of your layout. Don't forget color-matched end panels, island panels, toe kicks and filler strips too.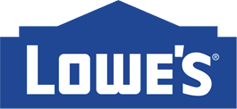 SOLD EXCLUSIVELY AT LOWE'S
You won't find Hugo&Borg Kitchens at any other retailer, it's a unique collaboration between us and Lowe's. This website is designed to make choosing, planning and buying easy from the comfort of your own home — but if you get stuck or need some professional inspiration, just contact us or visit your nearest Lowe's store.