Hugo&Borg is very proud to support and partner with Military Makeover. Watch the series now on Lifetime!
We're making it our mission to be the people's favourite cabinetry company. How? By building the highest quality, trend-leading cabinets and by providing the friendliest, most helpful service and support in the industry.We're cabinet makers — we like to keep things simple!
It's our attention to detail that makes all the difference. With Hugo&Borg, you'll find must-have features you may never have considered until now, such as soft-closing mechanisms or extra wide drawers. It's these little things in life that add to the sheer enjoyment of your kitchen every day.
Wherever you're thinking of installing your gorgeous Hugo&Borg cabinetry, our kitchen designers can help you plan it to perfection. Book our FREE one-to-one design appointment, or try our simple visualizer and quick quote estimating tool.
Our kitchen collection is remarkably simple: 2 extremely well-considered, trend-leading designs, along with just the right combination of cabinet types and size options, so you can create your dream kitchen layout with ease. Available now from Lowe's, the home improvement specialists.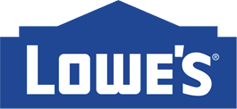 SOLD EXCLUSIVELY AT LOWE'S
You won't find Hugo&Borg Kitchens at any other retailer, it's a unique collaboration between us and Lowe's. This website is designed to make choosing, planning and buying easy from the comfort of your own home — but if you get stuck or need some professional inspiration, just contact us or visit your nearest Lowe's store.
Receive a quick quote on your newly designed kitchen with our digital designer
Easy and Fun way to create your own Dream Kitchen.
Need help? Let our kitchen designers create a custom design in less than 24 hours.