Browse our gallery and imagine beautiful Hugo&Borg storage all around your home. Creative ideas start here:
Want to be part of our inspiration gallery? If you'd like to showcase your Hugo&Borg project click the 'share' button below.
SEND US YOUR FINISHED PROJECT HERE
At Hugo&Borg, we know exactly what works best to create great-looking, functional layouts with our beautiful cabinetry. Book a free consultation with one of our expert designers, and get a custom design within 24 hours.
Our 'digital designer' online tool allows you to visualize 7 different popular kitchen layouts from galley to U-shape, L-shape and island designs. Input your room size and door choice, then play around with wall colors, tiles and flooring! It'll give you a guide cost too.
We've partnered exclusively with Lowe's to bring Hugo&Borg cabinetry to you with ease and convenience. Order here for pick-up from your nearest Lowe's, or request home delivery at checkout.
Don't forget — most items are stocked in store too, with additional 'special order' sizes shipped within 48 hours via express delivery.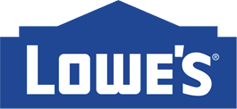 SOLD EXCLUSIVELY AT LOWE'S
You won't find Hugo&Borg Kitchens at any other retailer, it's a unique collaboration between us and Lowe's. This website is designed to make choosing, planning and buying easy from the comfort of your own home — but if you get stuck or need some professional inspiration, just contact us or visit your nearest Lowe's store.