Hugo&Borg Partners with Military Makeover to Give Back to Veterans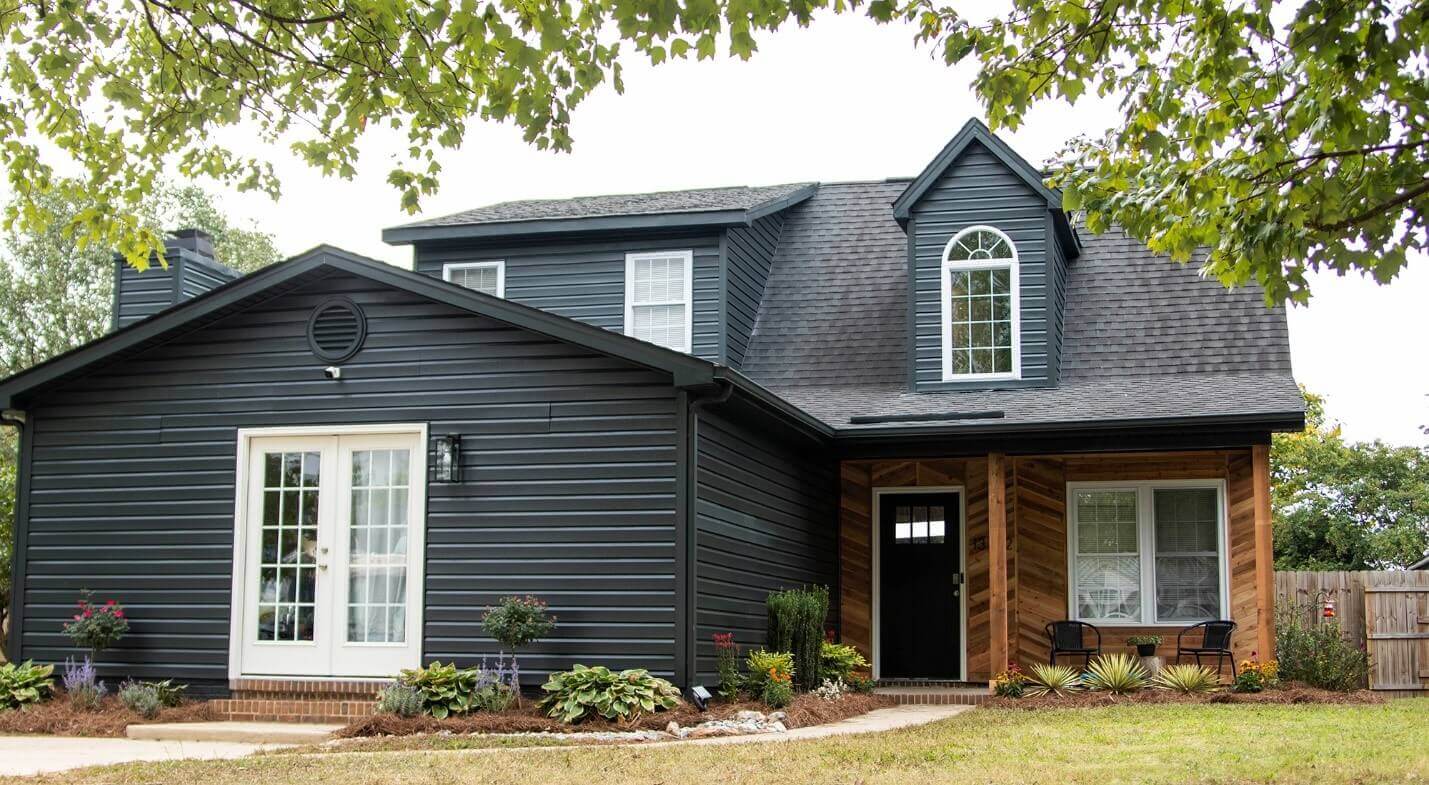 Hugo&Borg had the special privilege of giving back to a family in need of some beauty and joy. We partnered with Lifetime's Military Makeover to light up the home of two veterans suffering the physical and emotional tolls of military service.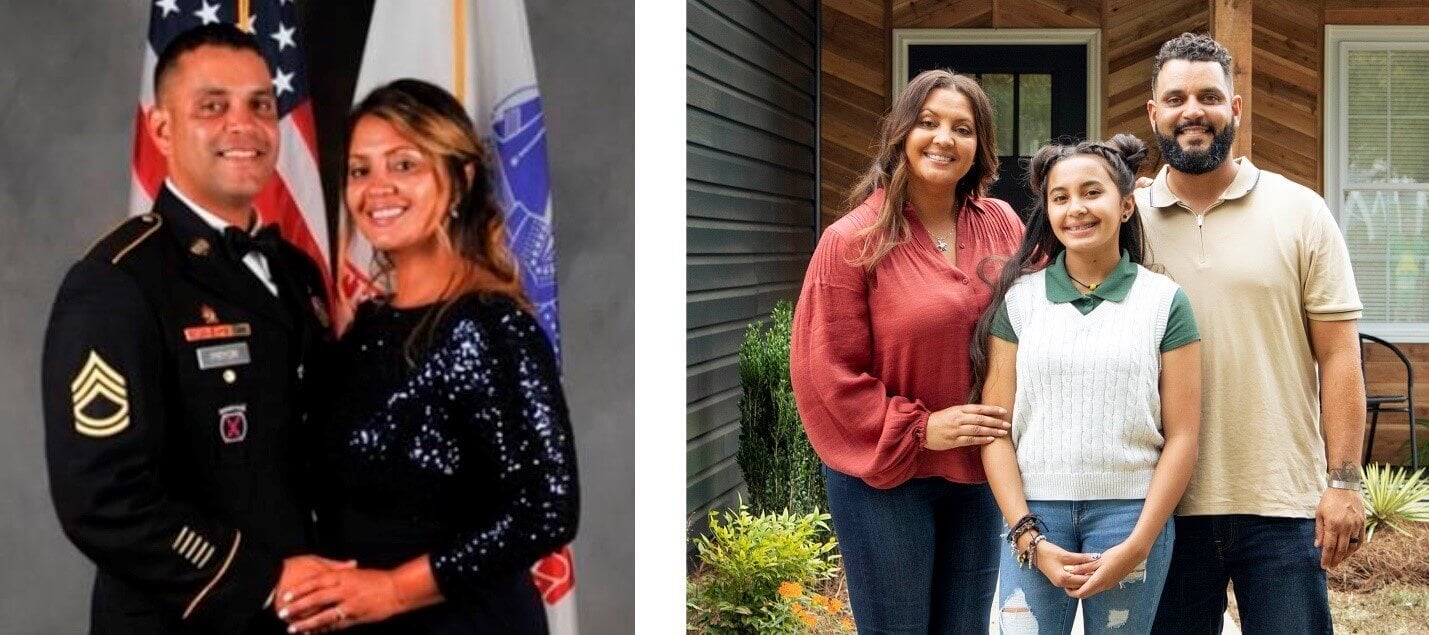 Joey and Joy Pryor met while in high school and reconnected on Facebook years later over their shared love for the outdoors—and their experiences in the military. Joy excelled as a Precision Measurement Lab Technician, but endured the hardship of being a woman in the service. Joey was a decorated Army Master Sergeant whose third tour in Afghanistan ended abruptly when he was hurt on a mission. When a bomb left him with a severe knee injury that required surgery, Joy showed up to the hospital, marking the start of their relationship.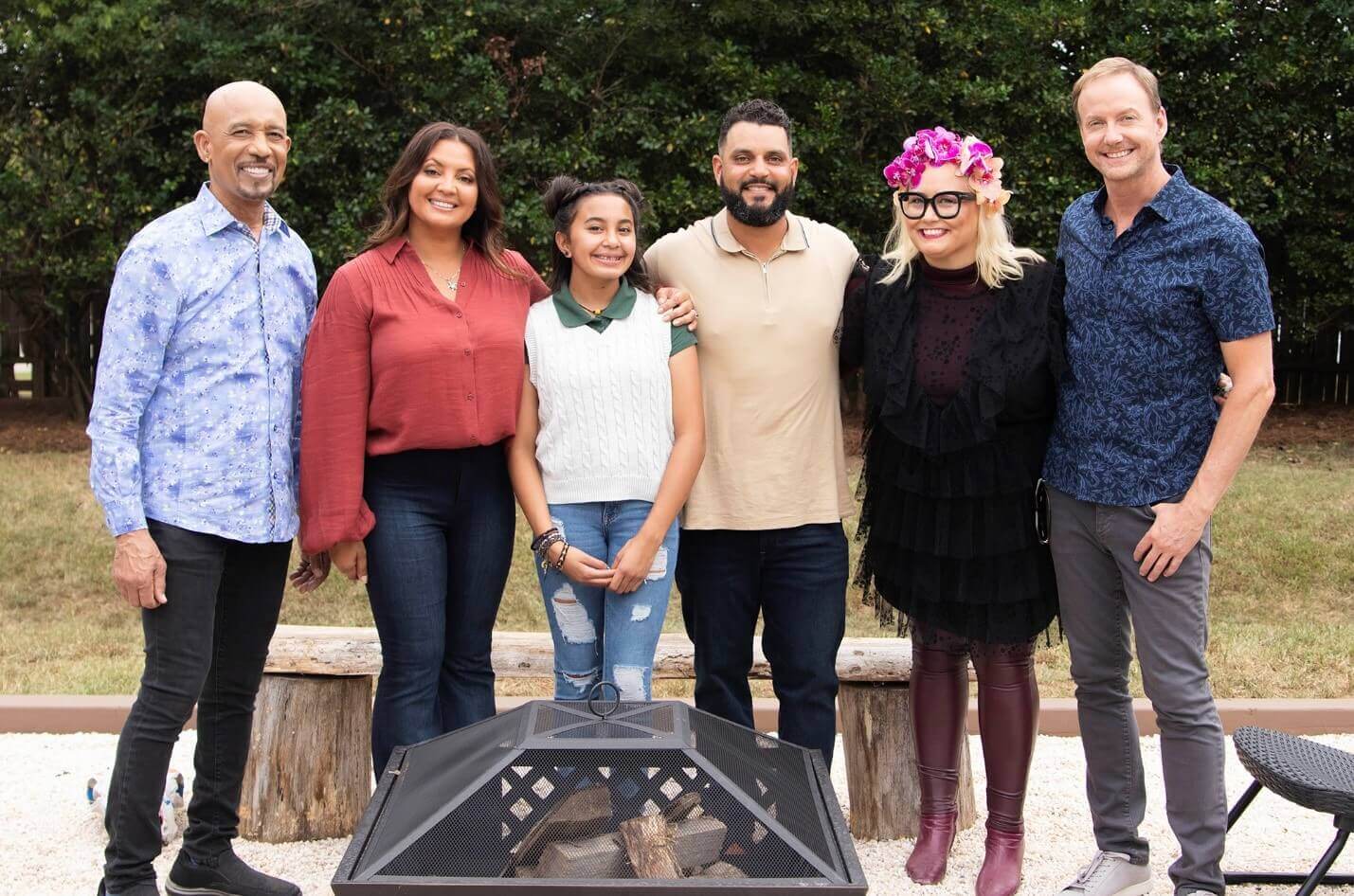 Military Makeover host Art Edmonds and interior designer Jennifer Bertrand surprised the Pryor family during a breakfast out. The group then headed over to the Pryor home to get a lay of the land and hear the family's hopes for the renovation. They were joined by renowned television host and actor Montel Williams, who spoke to the family on a personal level about the challenges they'd overcome—and some they continue to deal with today—as veterans.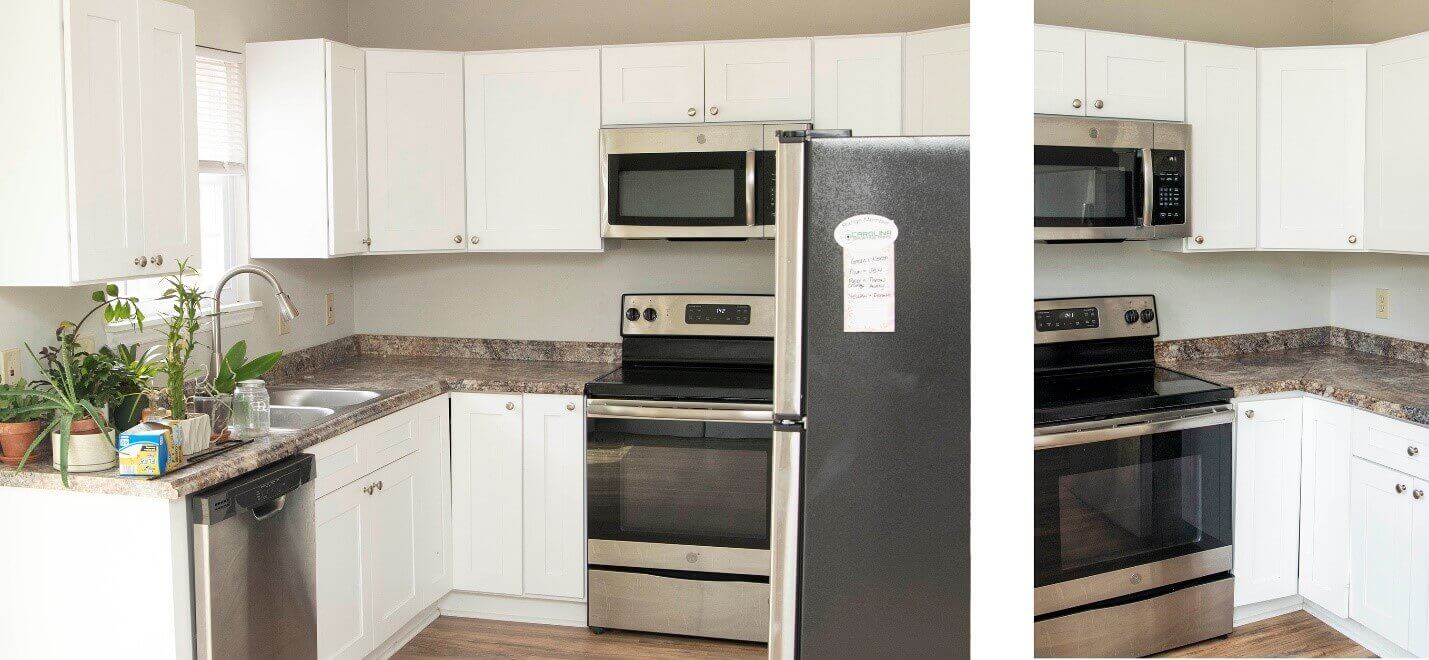 The Pryor family kitchen was in need of some love. It lacked space for the family to gather altogether, and when preparing meals, the dividing wall kept Joy disconnected from Joey and daughter Gia. It also made the room feel dark and cramped.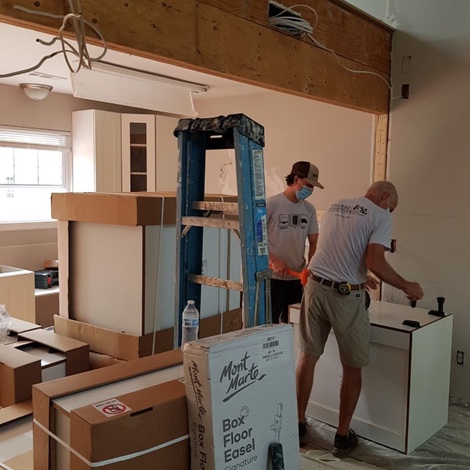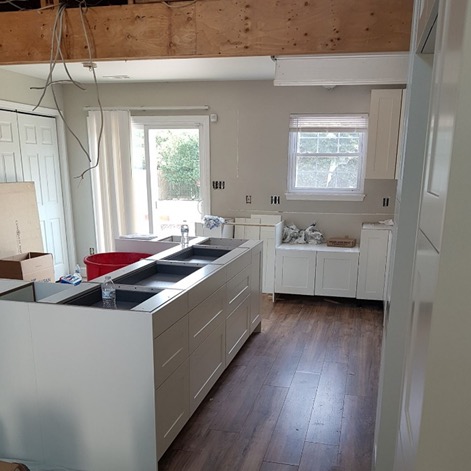 Out with the old, in with the new! The Hugo&Borg team worked tirelessly over two weeks to put together a fresh new kitchen as designed by Jennifer.
Attaching the cabinets to the walls went smoothly. Hugo&Borg products feature high-end hardware that was simple to adjust after installation.
The cabinets are constructed with a frameless design, maximizing internal storage space while offering a contemporary look. All doors feature soft-close technology, and drawers have undermount slides that make it easy to remove and clean them.
Hugo&Borg's Joseph Renaud told the Military Makeover team: "We're very proud to be a part of this. As soon as we heard the story about the Pryor family… we really wanted to be a part of it and take action. Now, they have a kitchen and storage space where they're going to be able to entertain all their friends and family together."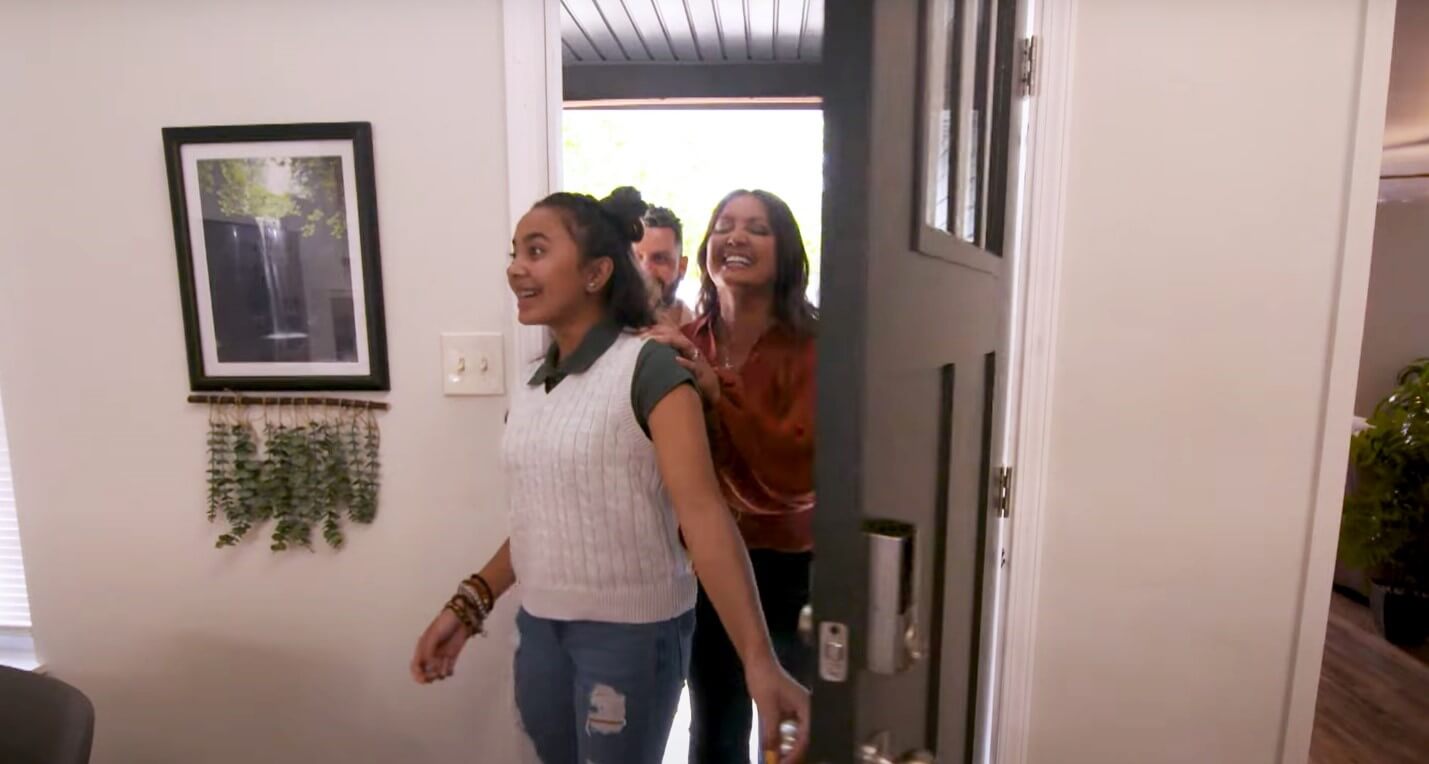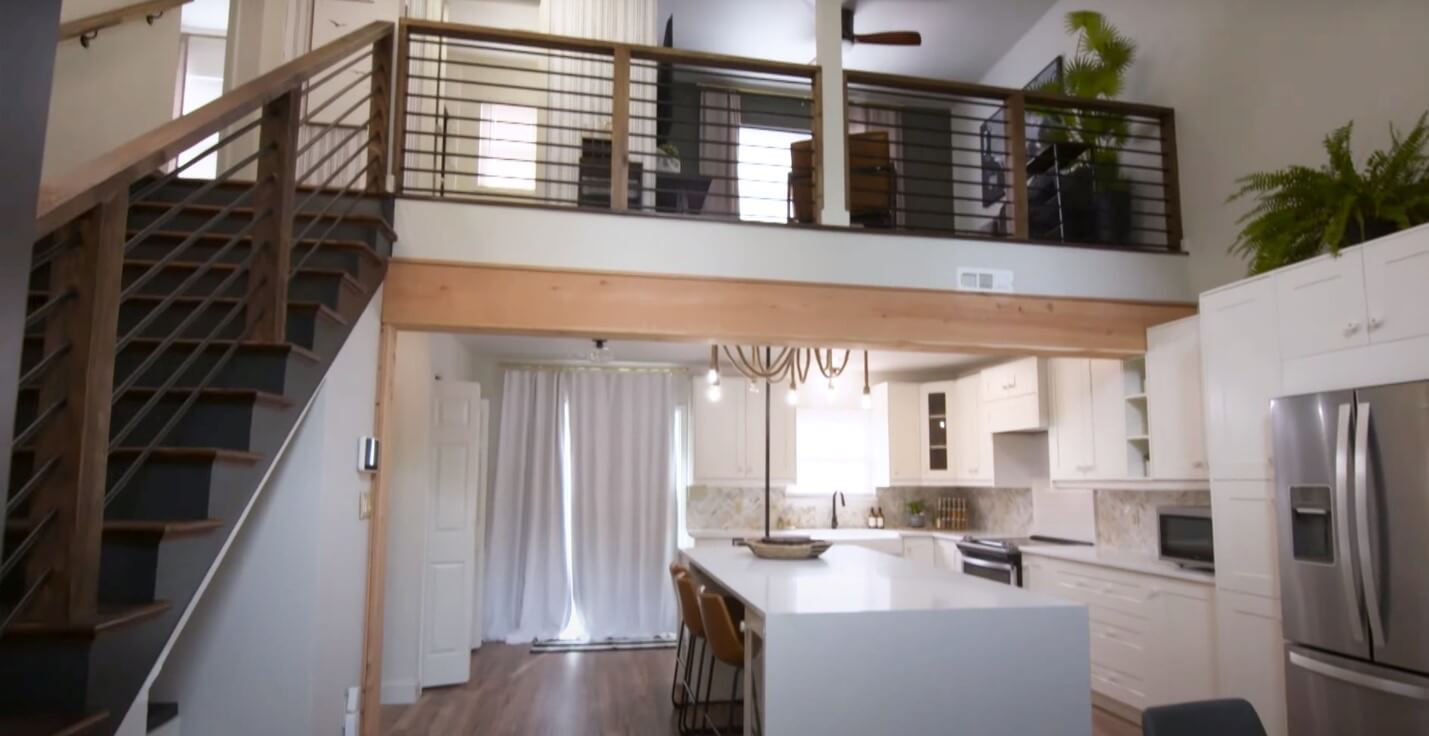 The reveal…

When Joey Pryor walked into his new home, he told Military Makeover: "The first thing I saw was that… huge island and beautiful kitchen. It was really like a jaw-dropping moment."

All three Pryors could not stop gushing about the look of their new kitchen, which had now become the first-floor focal point after taking down the dividing wall. Joy said it was one of her favorite parts of their home, and added, "Everyone showing support for us… has touched all of us. Everyone feels like family. We're so grateful".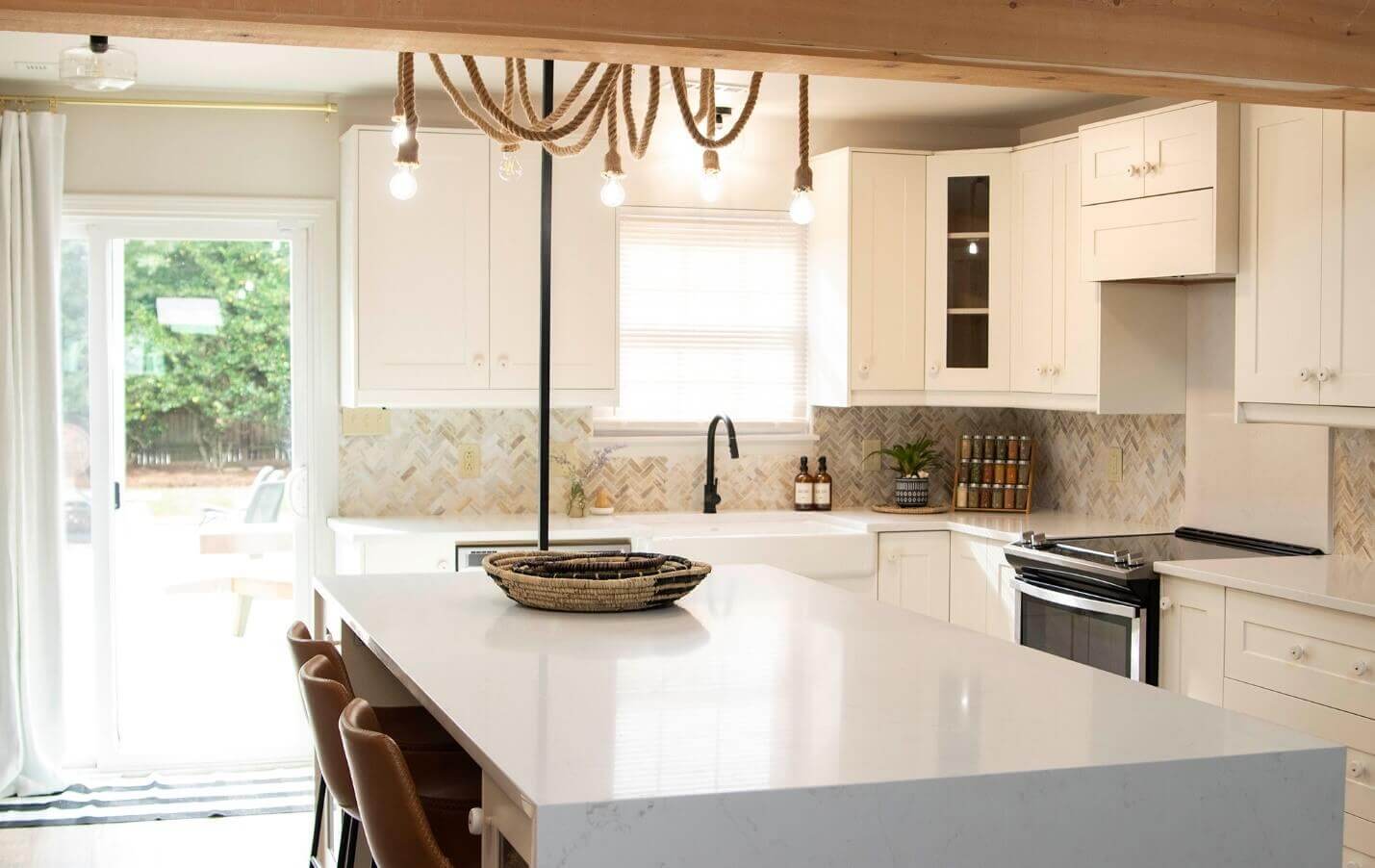 The renovated kitchen boasts a trendy modern farmhouse look. Our Hugo&Borg Jolie door style in Warm White is complemented by earth-toned décor.
While the original space had the kitchen on one end of the floor and a separate dining/living room at the opposite end, the new, wall-free layout creates a large, open-concept kitchen and dining area, including a multi-purpose island. The kitchen is now the first sight upon entering the home, with light flooding through the whole first floor.

Farmhouse apron-style sink.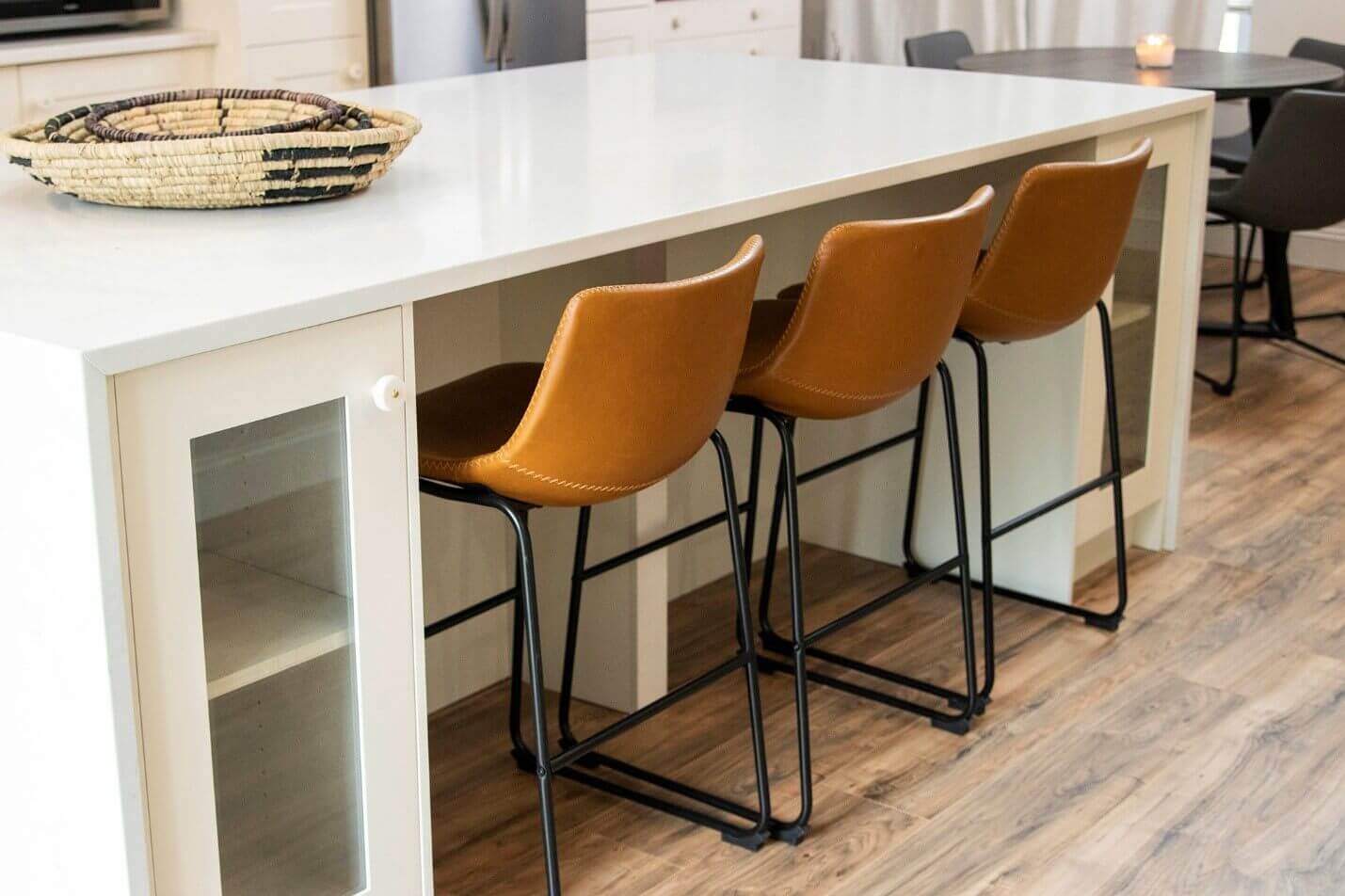 Island gives more counterspace, additional seating, and convenient additional storage.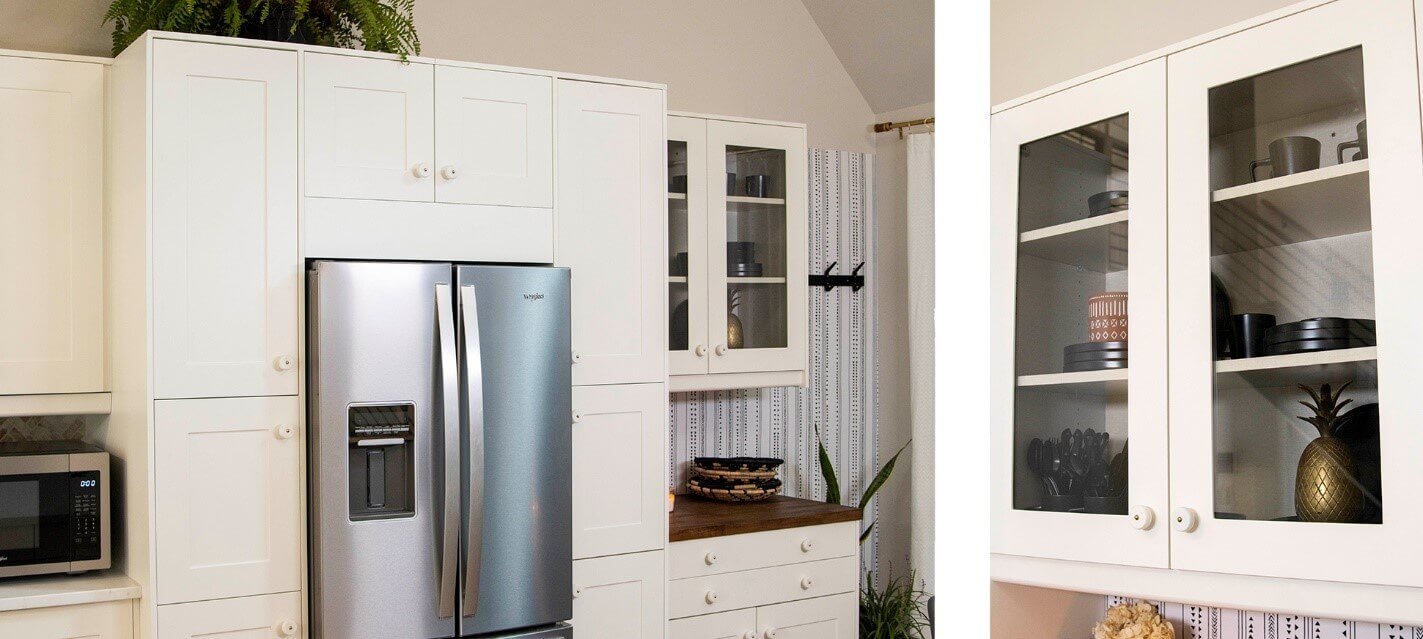 An abundance of storage. Glass doors showcase decorative tableware.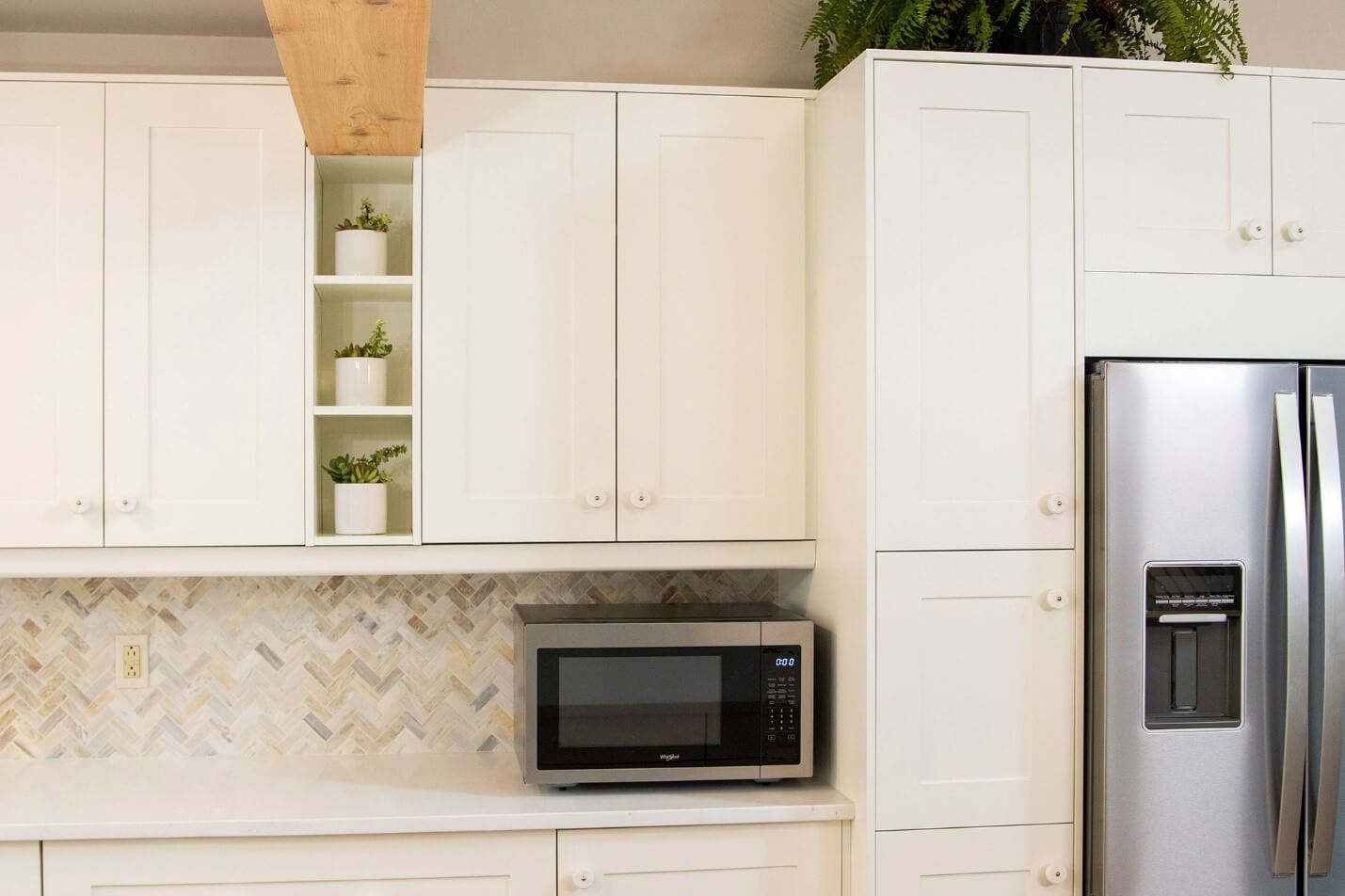 Beautiful natural-finish wood beam is cleverly surrounded by our upper cabinets and open shelves.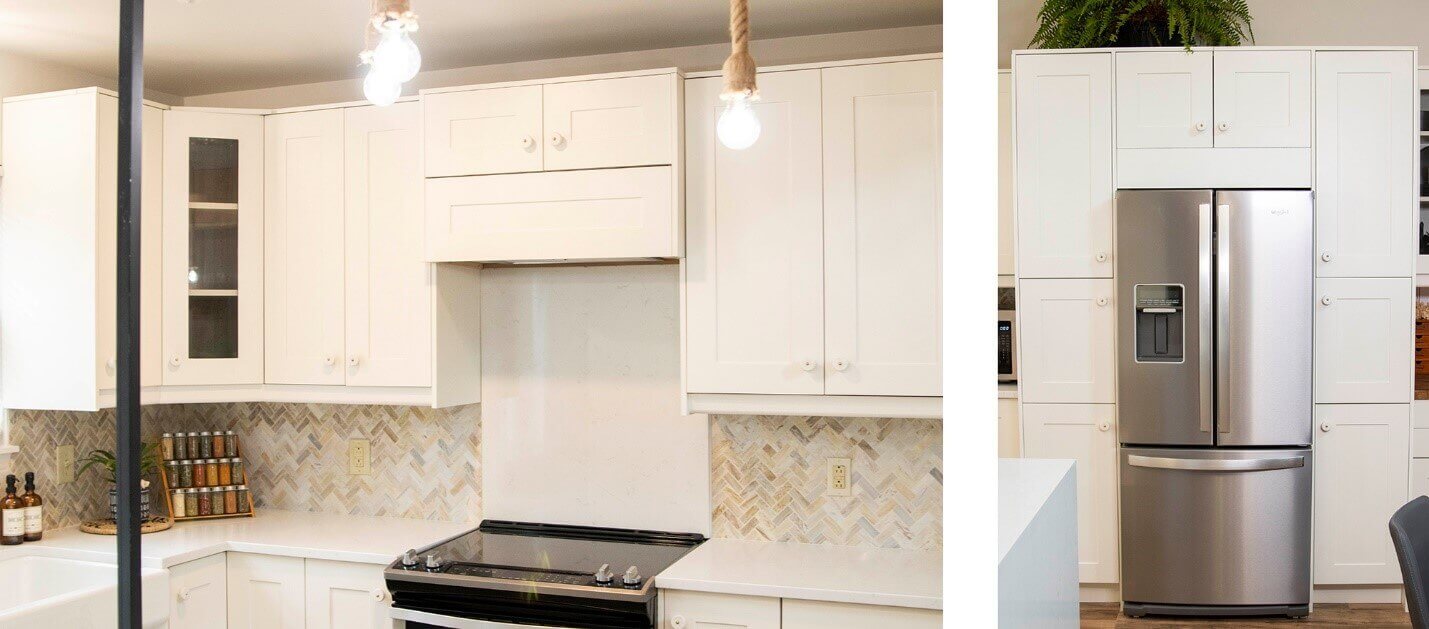 Storage is maximized over and surrounding the appliances.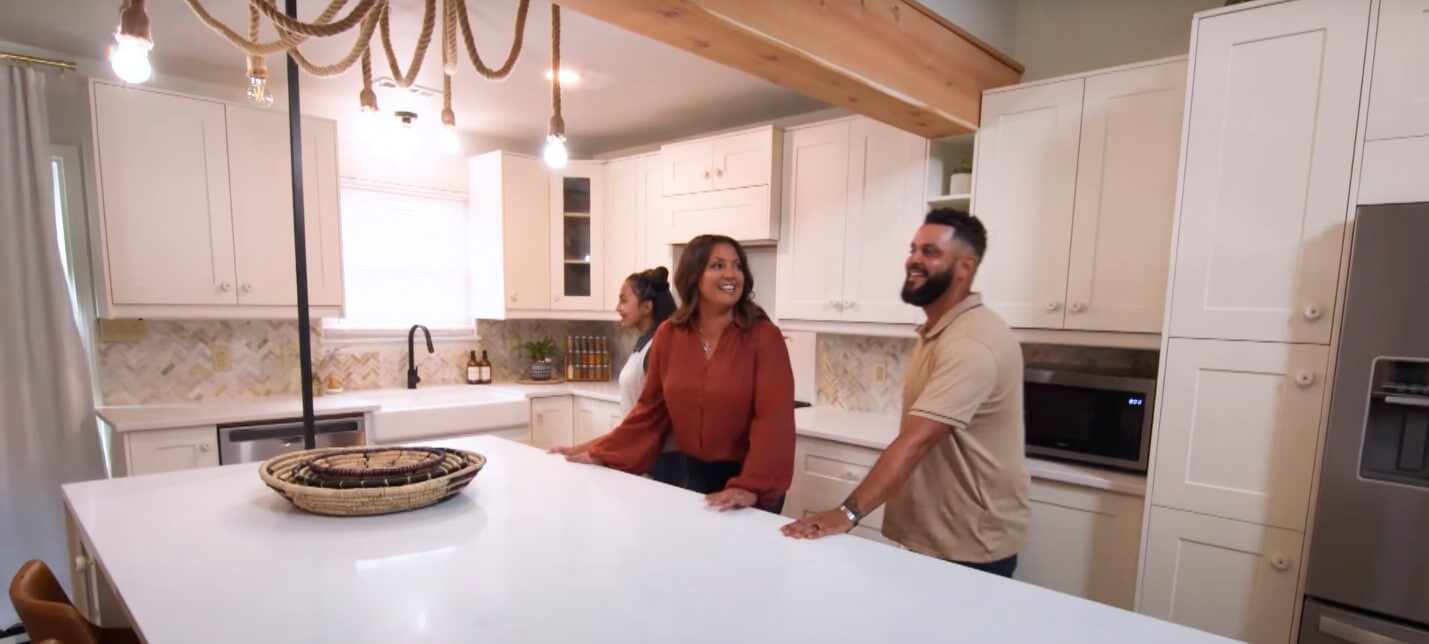 Space to cook and entertain at the same time.

View of kitchen dining area plus upper level.

Every nook considered: a convenient pull-out bench sits under the stairs, attractively adding additional storage.

The entire house had a face-lift, inside and out.

"It's totally our vibe," Joy said with a huge smile. "It's definitely us—all the way."

Gia chimed in, "The whole vibe of the whole house is amazing!"