Our Hugo&Borg design team are excited to help you create the very best possible design for your project, within 48 hours. This is a TOTALLY FREE service, with no obligation to buy. We can work on an existing or new design, help you to place your order and answer any installation queries.
Just enter your details below and we will get back to you.
Before your appointment with a Hugo&Borg Designer, why not use our quick and easy visualizer to try out some different looks for your project? It's fun to use and it gives you a running guide cost in real-time as you make your selections.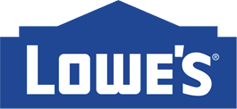 SOLD EXCLUSIVELY AT LOWE'S
You won't find Hugo&Borg Kitchens at any other retailer, it's a unique collaboration between us and Lowe's. This website is designed to make choosing, planning and buying easy from the comfort of your own home — but if you get stuck or need some professional inspiration, just contact us or visit your nearest Lowe's store.