We're Hugo&Borg, the cabinet makers. We design and build ready-assembled cabinetry that can be purchased and installed with ease; to bring the joy of beautiful storage to every corner of your home. Available exclusively at Lowe's.
Hugo&Borg is united in one focused goal; to the make the best quality cabinetry on the market at the best possible price. By researching best-in-class cabinetry construction techniques and materials, and rigorously testing and retesting design concepts, we've arrived at the perfect specification: high-quality cabinets, supplied ready-assembled for you to install with ease.
We know that it's important to have complete assurance of quality when shopping on the internet. That's why we provide a Limited Lifetime Warranty on all our cabinets, so you can buy Hugo&Borg knowing you're buying the highest quality. It's all down to our attention to detail, our wonderfully streamlined organization, and a well-practiced seamless process.
We believe in offering incredibly great value and quality at prices that will amaze you. Compare our costs and product specifications to our competitors and you'll be pleasantly surprised to find that at Hugo&Borg we offer a whole lot more for the price!
It's the simplest of things in life that make us smile — like exceptional service. The friendly Hugo&Borg team know our kitchen collection inside and out. They're keen to share what they know to help you create the very best cabinetry solution for your home. Talk to us
by phone,
by email
or via our online
Live Chat
— we're ready and waiting to help you!
Our classically-trained Hugo&Borg designers have collaborated to create a collection of door styles to cater for every design genre and budget. From rustic farmhouse to urban chic, in beautifully textured woodgrains and painted finishes, the Hugo&Borg Kitchen collection provides all the design choice you could need. Our design team are highly skilled at creating a layout that's perfect for your room shape and lifestyle, in a look that's just your style.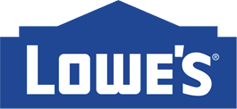 SOLD EXCLUSIVELY AT LOWE'S
You won't find Hugo&Borg Kitchens at any other retailer, it's a unique collaboration between us and Lowe's. This website is designed to make choosing, planning and buying easy from the comfort of your own home — but if you get stuck or need some professional inspiration, just contact us or visit your nearest Lowe's store.